3 benefits of an aluminum privacy fence.
Most of our clients are looking for a good privacy fence to replace their old tired fence. Even though we have some excellent aluminum screen fence options, we always understand why our clients want a contemporary aluminum privacy fence option. Here are three benefits of an aluminum privacy fence.
Please share this article on social media or with a friend if you find this article valuable. Feel free to email us if you have any feedback about this article; click here. We value your feedback, and we use the feedback to come up with ideas for future posts. Ok, let's get started!
Protection from the weather:
A contemporary aluminum privacy fence can act as a windbreak. This is very useful because harsh winds and storms could damage your gardens or landscaping. A good aluminum privacy fence will keep that from happening. Depending on the height of your fence, it can also provide shade for kids and dogs when they are playing outside on a hot summer day. A privacy fence can also keep debris from blowing into your yard.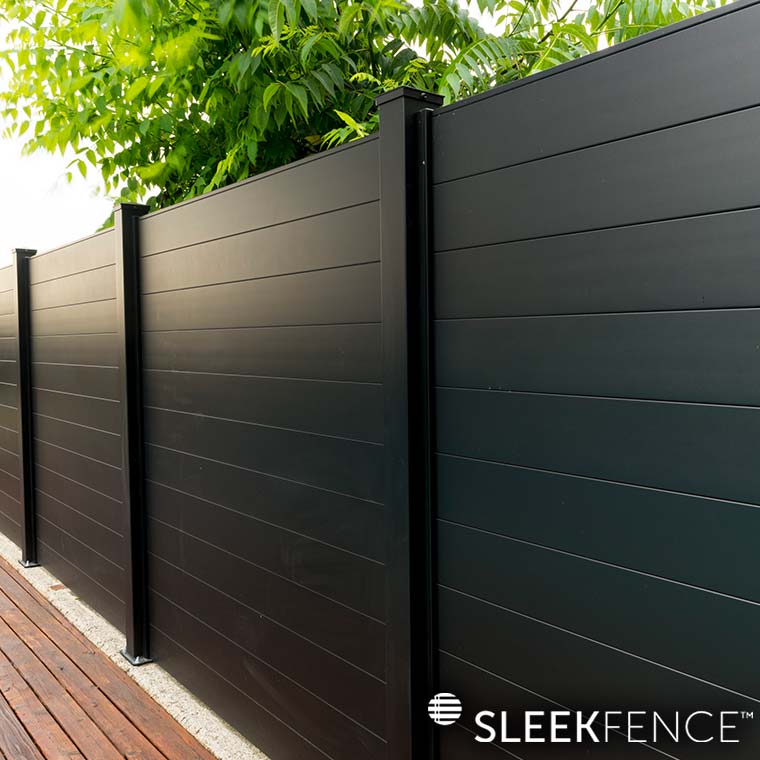 Keeps thieves away:
If you have kids or dogs, then a good privacy fence can effectively keep unwanted intruders such as other animals and thieves out. If intruders can't see what is on the other side of your fence, they will be far less motivated to gain access to it. This decreases the odds of your property ever being targeted by criminals for any reason. Any additional barrier between your home and trouble is a definite plus.
Enhances curb appeal:
Generally speaking, a great privacy fence will enhance your home's curb appeal and property value. If you choose a stylish aluminum privacy fence that compliments the exterior of your home, it can make the entire property much more aesthetically appealing. This will help when buyers come to visit. 
If a buyer is attending your open house, it will be a huge plus to see a solid and stylish aluminum fence surrounding the perimeter of where their kids and dogs will be playing. We have written an article that expands on the benefits of SLEEKFENCE regarding keeping your dogs inside, and here is a link to another one that speaks to child safety.
If you choose one of our aluminum privacy fence options, you could also save tens of thousands of dollars in maintenance fees over the years. This will be one less thing that will impact your pocketbook. 
Conclusion:
Feel free to call or email us with any questions that you may have about our aluminum fence panels, a member of our support team will be happy to assist you. We pride ourselves on having the best customer service in the industry. We care about our clients and are genuinely grateful for their business. Most of our customer service team has installed fencing before, so they can coach you through the process if you've chosen to do it yourself. They are also more than happy to help you find a contractor in your area if you're looking to have it installed for you. Our fence comes preassembled, so installation is as easy as a black aluminum privacy fence.