Here are 4 ways to prevent your dog from escaping the yard. You may have already read our post titled "What kind of fence would be best to keep my dog inside?" there we recommended our number one product for this need. We wanted to do a follow-up post with some extra tips tricks, so you can make sure Fido stays in your yard. Let's get started.
Remove all climbing aids:
A SLEEKFENCE aluminum privacy fence is already hard enough to scale. It is a slippery and solid surface with nothing to latch on to. Dogs can sometimes surprise us with their athleticism. We don't want to help them out in any way if their goal is to hop your aluminum privacy fence. Be sure that anything that can be utilized for climbing is not close to the fence such as chairs, benches, and garbage cans.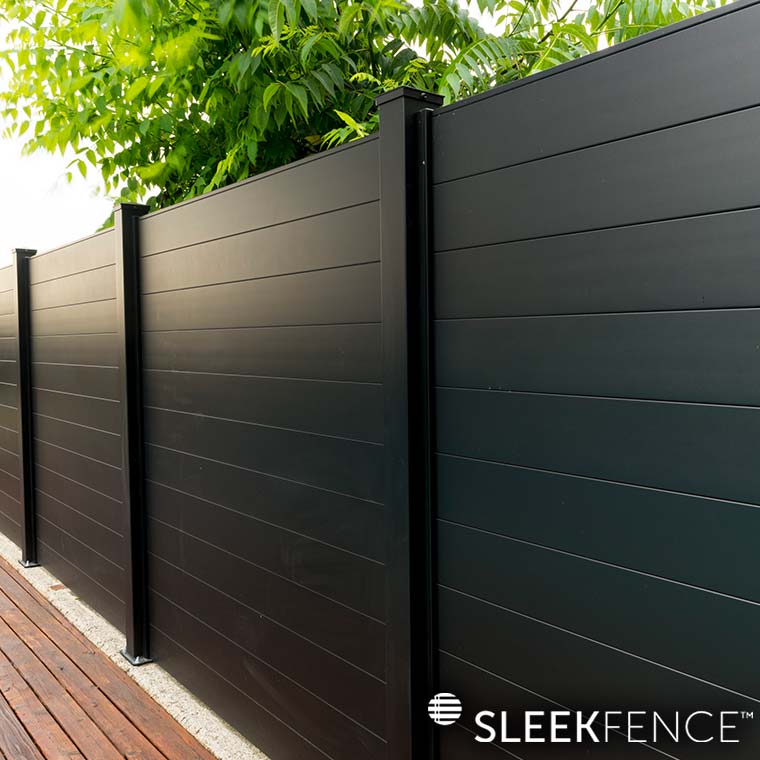 Utilize landscaping:
Many of our client's plant hedges along the fence line, this is a great solution because it makes the fence much more difficult to scale. It's also aesthetically pleasing. Many of our clients also find that the black background really makes their plants stand out.
Ensure your latches on gates and fences are secure:
If you have purchased an aluminum fence that is sufficient in height, then put in the time and effort into removing all climbing aids and invested in the proper landscaping then it would be heartbreaking to have your dog walk right out of the gate. This is an obvious one, but it is important. Please make sure that your SLEEKFENCE gate is locked before leaving Fido in the backyard.
Make sure that the yard is comfortable:
Make sure your dog has enough freshwater, shade, and toys to keep them comfortable and entertained. Also, be sure to keep some new toys on rotation as well. If we can keep our pets comfortable and entertained inside, then they won't need to worry about finding it outside.
      Bonus:
We wanted to add one more tip. It is worth the investment to equip fido with a GPS tracking collar. As reliable as a SLEEKFENCE setup is, accidents still happen from time to time. Having a GPS collar will allow you to track your dog's location in real-time.
We hope you enjoyed this post pertaining to 4 ways to prevent your dog from escaping the yard. Feel free to call or email us with any questions that you may have pertaining to our aluminum fence panels and a member of our support team will be happy to assist you. We pride ourselves on having the best customer service in the industry. We care about our clients and are genuinely grateful for their business. Most of our customer service team has installed fencing before so they can coach you through the process if you've chosen to do it yourself. They are also more than happy to help you find a contractor in your area if you're looking to have it installed for you. Our fence comes preassembled, so installation is as easy as it gets for a black aluminum privacy fence.