Best HOA Fence.
SLEEKFENCE has proven to be an excellent option for HOA residents looking to get a new fence or replace their existing fence. We have put together a guide for getting your fence project approved by your HOA. Click here to check that out; many people have found it valuable. 
In this article, we will discuss why SLEEKFENCE aluminum fence product would be the perfect product for a homeowner in an HOA or for an entire HOA that is being constructed or thinking about replacing all the fences in the neighborhood. Please share this article on social media or with a friend if you find this article valuable. Feel free to email us if you have any feedback about this article; click here. We value your feedback, and we use the feedback to come up with ideas for future posts. Ok, let's get started!
It requires virtually no maintenance:
Our aluminum privacy fence and aluminum screen fence product will require little to no maintenance aside from cleaning at your discretion. SLEEKFENCE doesn't require you to polish or paint your contemporary black fence. You'll need to install it and enjoy it for a lifetime. Let's take a second and talk about how this works; our aluminum privacy fence panels and screen panels are powder-coated black. Because they are made from aluminum, they are resistant to corrosion and don't rust. You're SLEEKFENCE will last a lifetime.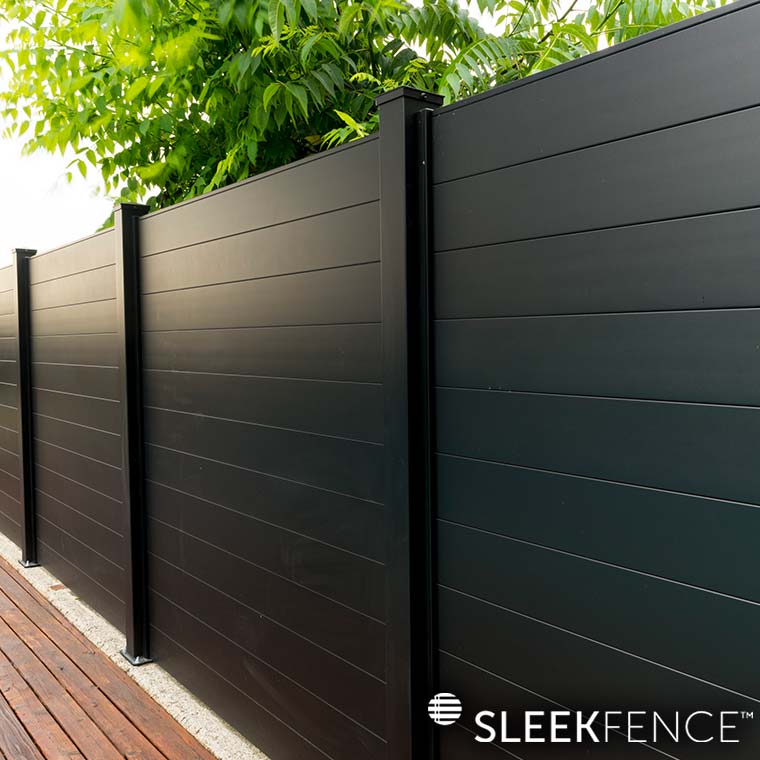 It will add value to your home:
SLEEKFENCE will undoubtedly increase your home's curb appeal, especially with good landscaping and gardening. The American society of landscape architects assessed that proper landscaping (fencing is included in this category) had been known to increase a property's value by nearly 20%! This means that good landscaping and a great fence could add $120,000 to the purchase price, which is valued at $600,000. This is a huge jump, but to experience that kind of price increase, you'd need to install a quality fence. Cheaper fence options such as chain link will most likely not produce returns like that. It would need to be an aesthetically pleasing option like SLEEKFENCE.
It will keep your kids and pets safe:
We have a 6-foot option that would be perfect for keeping Fido or junior from jumping over. An aluminum fence will be your best option if you're looking for strength and durability. You won't have to worry about your pet clawing at it because our fences come with a very tough satin black powder coat to ensure that they won't show scratch marks. SLEEKFENCE metal privacy panels are constructed from high-quality pure aluminum alloy 6063 T6, so you won't have to worry about your fence warping or bending. A 6-foot aluminum privacy fence will keep virtually any child or dog breed inside and all the unwanted stimuli out. Even though we recommend you go with the metal privacy fence panels, the horizontal screen fence would not be a bad option. 
Don't hesitate to reach out:
Feel free to call or email us with any questions that you may have about our aluminum fence panels, and a member of our support team will be happy to assist you. We pride ourselves on having the best customer service in the industry. We care about our clients and are genuinely grateful for their business. Most of our customer service team has installed fencing before, so they can coach you through the process if you've chosen to do it yourself. They are also more than happy to help you find a contractor in your area if you're looking to have it installed for you. Our fence comes preassembled, so installation is as easy for our black aluminum privacy fence.