Does a fence add value to your home?
Spring is almost here, and we are beginning to spend more time outside; you may be looking around at your yard and thinking about landscaping, fixing the deck, or replacing your old tired fence. You may be thinking about property value and whether a new fence would add anything significant to your home's price tag? That is the question we will be addressing in this article.
Please share this article on social media or with a friend if you find this article valuable. Feel free to email us if you have any feedback about this article; click here. We value your feedback, and we use the feedback to come up with ideas for future posts. Ok, let's get started!
Understanding the purpose:
Understanding the purpose a good fence serves would probably be a logical place to start; a fence is meant to enhance the look of your property, so the aesthetic appeal is a big deal; it is also supposed to provide privacy and security. If it can provide all of the above three benefits without requiring maintenance, you have found a winning fence! Our SLEEKFENCE™ aluminum fence options will satisfy all of the above requirements. A quality black aluminum fence will make your property look better, plants stand out against it, and it is strong enough to brave the elements and keep your kids and dogs inside. Though you may pay more for the fence upfront, you will save money in the long run because the fence requires no maintenance. If you are looking for maximum privacy and security, you will definitely want to go with our 69″ privacy fence.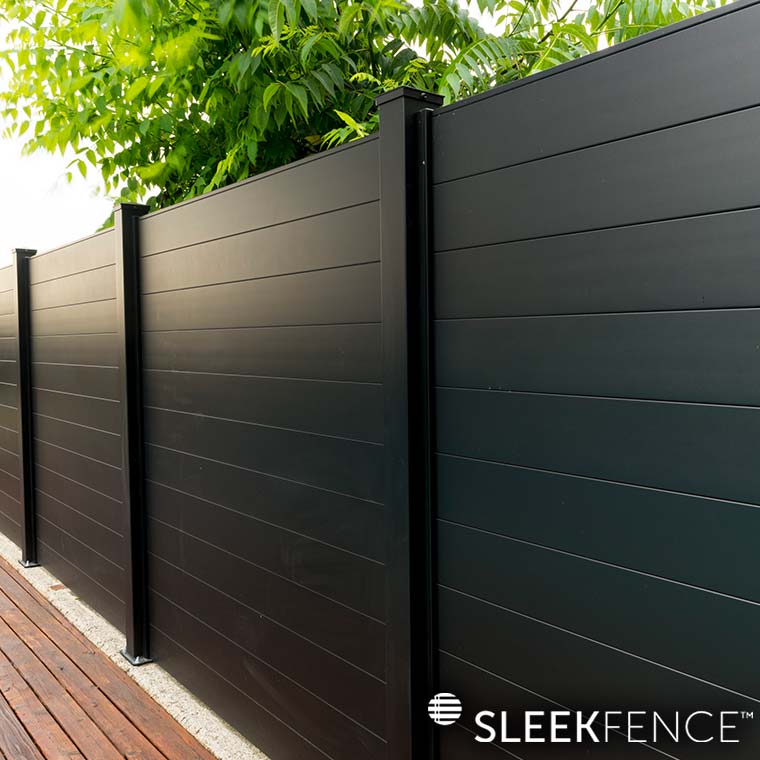 Landscaping and fencing could add nearly 20% to your purchase price!:
SLEEKFENCE™ will undoubtedly increase your home's curb appeal, especially when paired with good landscaping and gardening. The American society of landscape architects assessed that proper landscaping (fencing is included in this category) had been known to increase a property's value by nearly 20%! This means that good landscaping and a great fence could add $120,000 to the purchase price of a home that is valued at $600,000. This is a huge jump, but to experience that kind of price increase, you'd need to install a quality fence. Cheaper fence options such as chain link will most likely not produce returns like that. It would need to be an aesthetically pleasing option like SLEEKFENCE™.
It needs to be installed correctly:
Now that we understand quality fence materials are well worth the investment let's talk about installation and workmanship. Your fence will be on display for anyone that comes over to visit or walks by it on the road. This will most likely be one of the first things a potential home buyer will see. You can't risk a bad installation job. It needs to be done right the first time. Installing or replacing a fence at your home is a tremendous job. You'll want to make sure that you hire a fence contractor with the right qualifications to ensure that your fence follows all restrictions and permits. That's why we wrote this excellent fence contractor hiring guide. If you use our fence contractor hiring guide, you should have no problem finding a great fence contractor in your area. Another option could also be calling a member of our team. At SLEEKFENCE™, we have relationships with exceptional contractors across North America to install our modern black fence product. We would love any recommendations you have; we are always looking to add to the team.
Don't hesitate to reach out:
Call or email us if you have any questions about our aluminum fence products. A member of our support staff will be glad to help you. If you are looking to install a SLEEKFENCE™, we would be glad to assist you in finding a contractor near you.