Will an aluminum fence make your property look more luxurious?
There are many reasons to purchase a SLEEKFENCE; the right fence can provide privacy and prevent intruders and animals from entering while keeping little kids and pets from escaping. A new aluminum fence is a functional purchase, but it must also look good.
Today, we are answering the question, "Will an aluminum fence make your property look more luxurious?" our clients ask this question for several reasons. The client may be looking to sell their home, and they're wondering if a new modern black fence will influence a buyer's perception of their home. Other clients look to impress their friends and family while making their neighbours jealous. SLEEKFENCE will help you accomplish both. To adequately address the question, we decided to go over three main topics in this article. How to select the right style, cost, and curb appeal.
If you find this article valuable, please share it on social media or with a friend. Feel free to email us if you have any feedback about this article; click here. We value your feedback, and we use the feedback to come up with ideas for future posts. Ok, let's get started!
Choosing the right style:
We offer two styles of fencing here at SLEEKFENCE; we have our aluminum privacy fence and our aluminum screen fence. Both are beautiful options, and both will cause your home to stand out. If you are looking for a little more privacy and security then you would probably be better off going with our SLEEKFENCE 69″ privacy fence option. It keeps everything you want inside, such as children and pets. It also sends a clear message that says "do not enter" to thieves. Thieves could not be motivated by anything in your yard simply because they wouldn't be able to see it. 
If you are looking for something more open and inviting, it may be worth considering our aluminum screen fence option, especially if you live in a windy area; this model allows the wind to pass through it. There aren't a lot of fence products on the market that can indeed hold their own in very windy conditions. A SLEEKFENCE aluminum fence is going to be your best bet here. Our product is solid and durable. An aluminum fence has the best chance of holding up in extreme winds and storms.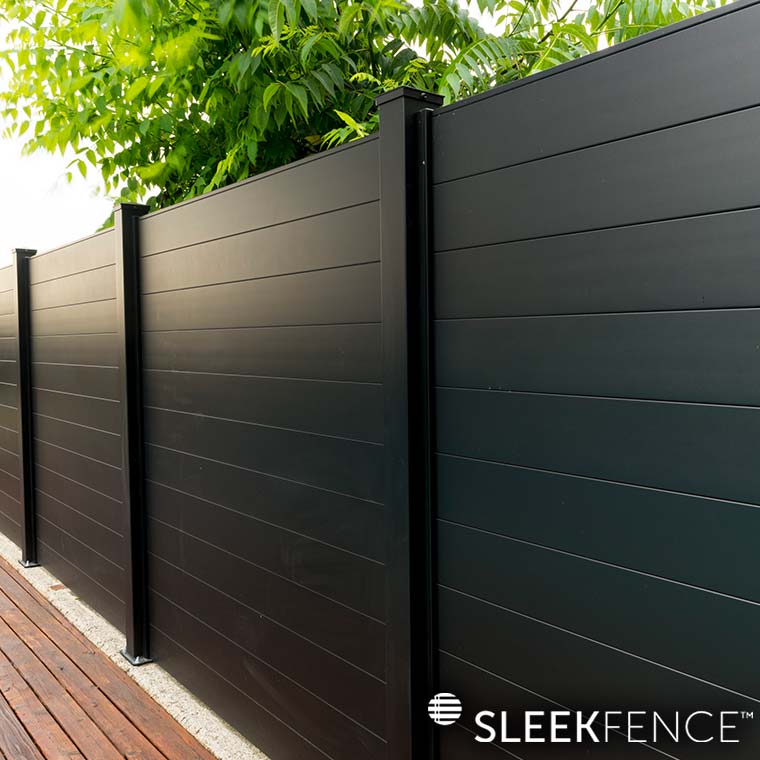 Cost:
The initial cost of an aluminum fence may seem more expensive, but it is essential to consider things like maintenance and longevity. An aluminum fence is a long-term investment in your property and future. You'll never need to spend any time on maintenance besides cleaning it at your discretion. It may cost more upfront, but a SLEEKFENCE will save you thousands of dollars in the long run. We address this point in detail in our post titled "Is an aluminum fence expensive?" you can click here to read that post. We never set out to create the cheapest fence products. We set out to create the best fence products. We believe in doing right by the customer and the environment.
If you want to figure out how much material you'll need or how much it will cost, click here to use our cost calculator. If you need help figuring out how to use it, you can click here to read our article titled "How to use our SLEEKFENCE cost calculator." It will walk you through the entire process.
Curb Appeal:
According to a UTA study, a home's curb appeal can increase the perceived value by 7%-14%. A quality black aluminum fence will make your property look better, plants stand out against it, and go with virtually any type of landscaping. SLEEKFENCE is the perfect option if you are looking for a fence to increase your home's perceived value. 
Conclusion:
Feel free to call or email us with any questions that you may have about our aluminum fence panels, a member of our support team will be happy to assist you. We pride ourselves on having the best customer service in the industry. We care about our clients and are genuinely grateful for their business. Most of our customer service team has installed fencing before, so they can coach you through the process if you've chosen to do it yourself. They are also more than happy to help you find a contractor in your area if you're looking to have it installed for you. Our fence comes preassembled, so installation is as easy as a black aluminum privacy fence.