Why buy a modular fence?
Here at SLEEKFENCE™, we have been getting a lot of questions about our modular fence product and exactly why we feel it is superior to the traditional hand-built fence. Although both can work out great, we wanted to use this opportunity to communicate the value that a modular fence option such as ours would provide. 
Please don't hesitate to contact us with any questions or feedback regarding this article, share it with a friend if you find it to be helpful, and check out some of our other blogs here. Ok, let's talk about why you should buy a modular fence!
What is a modular fence?
A modular fence, in short, is a fence that comes pre-assembled right out of the factory. It requires minor tweaks and adjustments during the installation process and works well with virtually any type of terrain. A modular fence often arrives as a kit or package; the pieces arrive ready to be installed. To further illustrate the value, think of a computer. A module, when we are talking about a computer, is a piece or section of software that can be changed out without affecting the entire program. Let's apply that logic to SLEEKFENCE™; if there is a problem with a specific component or piece of your fence, it is relatively easy to swap that piece out for a fresh one without affecting the rest of the fence. 
This is a very different process than you typically find with a traditional hand-built wooden fence or a custom welded metal fence. Swapping out a problematic piece in these cases will require affecting other sections of the fence and will require more cost, more labor and more time.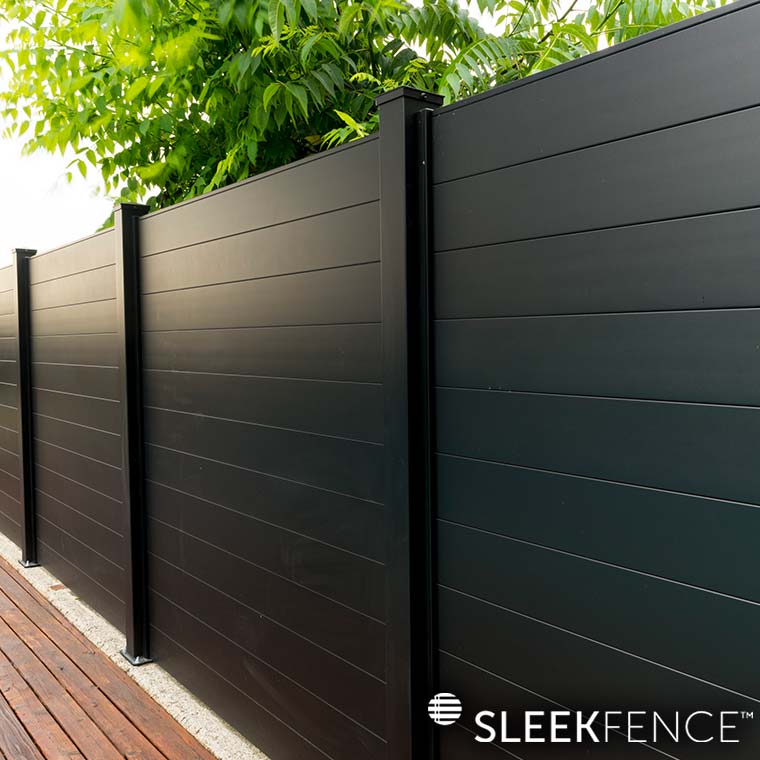 Why would I want a modular fence over a traditional fence?
A modular fence is typically much easier to install because the components have already been assembled at the factory. This means that you or your installer will not be required to make excessive modifications and adjustments during your time on site. This means that the fence will be installed faster, which will save you money in labor, and you'll be able to enjoy the finished product faster.
In the past, designing your metal fence project would consist of choosing and/or coming up with a design that involved multiple parties such as designers, welders, fabricators, gate specialists….etc. With SLEEKFENCE™ we have already done all of the hard work for you, and you can buy all of the components in one place and have them shipped right to your door. You can rest assured that the product is sound and your fence will look amazing. The choice is easy because we have already done all of the hard work for you. 
How is the quality? Is it as strong as a hand-built fence?
You really can't go wrong with an aluminum fence. When it comes down to strength, aluminum beats vinyl, cedar, and composite every single time. You won't have to worry about your kids pushing and pulling on it, teenagers trying to hop over it, or anything else. SLEEKFENCE™ can handle it all. Our aluminum privacy fence panels and screen panels are powder-coated black. Because they are made from aluminum, they are resistant to corrosion and don't rust. Aluminum has no iron in its composition, so there is no iron there to oxidize and rust.
An aluminum fence has the best chance of holding up when it comes to extreme winds and storms. If you live in a windy area, then you may want to consider our aluminum screen fence option, as this model allows the wind to pass through it. You can check out our wind ratings here. 
SLEEKFENCE™ is also very resilient in cold climates, and we believe we are the best option if you live in an area where heavy snow is a concern. Our modern metal fence product is very strong and can withstand heavy snowfall. Our aluminum fence panels will not expand or contract noticeably in temperature.
Don't hesitate to reach out:
Call or email us if you have any questions about our aluminum fence products. A member of our support staff will be glad to help you. If you are looking to install a SLEEKFENCE™, we would be glad to assist you in finding a contractor near you.